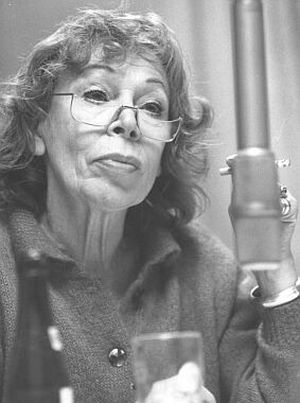 Gisela Trowe (1922-2010) was a German voice actress who dubbed various parts in the early seasons of Sesamstrasse, notably Alice Braithwaite Goodyshoes (renamed Susanne Klickerklacker). She also dubbed Anything Muppets in one-shot sketches, such as Snow White, included in the third soundtrack album for Sesamstrasse.
In dubbing, Trowe often lent her voice to sex symbols such as Gina Lollabrigida, Rita Hayworth, Susan Hayward, Barbara Stanwyck, and Kim Novak in Vertigo. Later, she dubbed dignified older actresses, such as Lauren Bacall in Murder on the Orient Express and Angela Lansbury in the first dub of Murder, She Wrote. Trowe was especially active in audio dramas, as the chief's wife Impedimenta in the Asterix series, the Sorceress and others in the Masters of the Universe tapes, various roles in the Three Investigators series, and Grandmother Sessemann in Heidi. She was heard on radio beginning in the 1950s, playing Lust in an adaptation of Faust and femme fatales in crime dramas, such as the Paul Temple series, as well as an assortment of literary adaptations and children's plays.
Apart from her voice work, Trowe was a veteran of German theater, film, and television going back to the 1940s. She was a supporting regular on the German TV series Der Landarzte (The Country Doctor), as the Countess Bea (1987-2008), and for the entire run of Unser Lehrer Doktor Specht (1992-1999) as boarding house owner Pia. Trowe also appeared on Tatort, Derrick, and Graf Yoster gibt sich die Ehre, among others.
External links