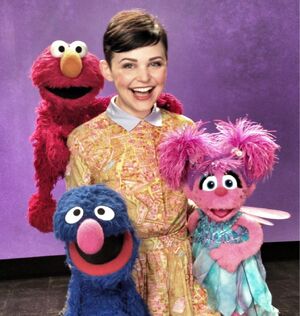 Ginnifer Goodwin (b. 1978) is an American actress, best known for her roles in such films as Big Love and Mona Lisa's Smile, voicing Judy Hopps in Zootopia, and portraying Snow White in the ABC series, Once Upon a Time.
Goodwin appeared in a Word of the Day segment during Sesame Street's 44th season, presenting the word "adventure" with Abby Cadabby. She also filmed a short spot about Rosh Hashana for the Shalom Sesame website.(video)
Ad blocker interference detected!
Wikia is a free-to-use site that makes money from advertising. We have a modified experience for viewers using ad blockers

Wikia is not accessible if you've made further modifications. Remove the custom ad blocker rule(s) and the page will load as expected.