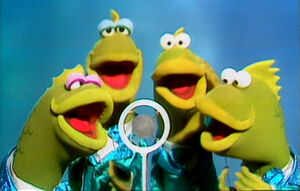 The Gills Brothers are a quartet of fish singers featured several times on The Muppet Show.
The Gills Brothers debuted in episode 312 as musicians in a fish band playing "Octopus' Garden." They sang songs for quartet in episode 402 and episode 424, accompanied the Fish Singer in episode 413, and sang the backups for Lew Zealand's rendition of "Goodnight Sardine" in episode 521.
They are a parody of the Mills Brothers, and are performed by Jim Henson, Jerry Nelson, Richard Hunt, and Steve Whitmire.
One of their numbers was choreographed by Dave Goelz.[1]
Sources
↑ Goelz, Dave Muppet Mindset Interview with Dave Goelz
Ad blocker interference detected!
Wikia is a free-to-use site that makes money from advertising. We have a modified experience for viewers using ad blockers

Wikia is not accessible if you've made further modifications. Remove the custom ad blocker rule(s) and the page will load as expected.