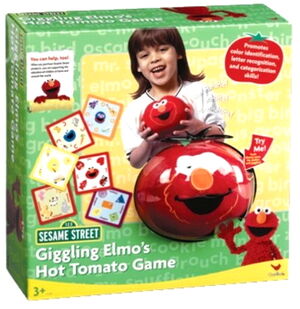 Giggling Elmo's Hot Tomato Game is a Sesame Street game made by Cardinal in 2009.
Players toss the "hot tomato" back and forth; when Elmo giggles, the player holding the tomato loses. A second way to play involves using Hot Tomato cards that teach letters, colors and shapes.
Ad blocker interference detected!
Wikia is a free-to-use site that makes money from advertising. We have a modified experience for viewers using ad blockers

Wikia is not accessible if you've made further modifications. Remove the custom ad blocker rule(s) and the page will load as expected.