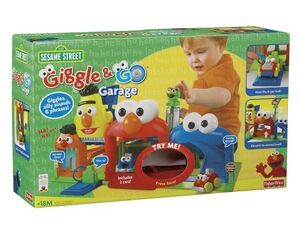 In 2007, Fisher-Price produced the Giggle N Go Garage. The talking set comes with an Elmo and Cookie Monster car, which can be lifted in the Elmo elevator, by pulling on Oscar the Grouch - who tells drivers to "hit the road" - and driven down the Cookie Monster speedway, or Ernie car wash. The cars can also be places in the Bert gas station.
External links
Ad blocker interference detected!
Wikia is a free-to-use site that makes money from advertising. We have a modified experience for viewers using ad blockers

Wikia is not accessible if you've made further modifications. Remove the custom ad blocker rule(s) and the page will load as expected.