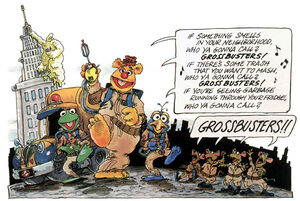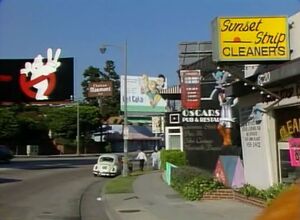 Ghostbusters is a 1984 film which spawned a sequel, an animated series and various merchandising tie-ins including video games, comic books and breakfast cereals.
References
In the Muppet Babies episode "I Want My Muppet TV!," Baby Bunsen invents anti-nightmare pajamas. A clip of Slimer from the 1984 Ghostbusters movie is shown as Baby Beaker uses the pajamas' ghost busting backpack to blast the spectre. The same clip was later used in a version of the opening theme.
The song "Bug Busters" from the Muppet Babies episode "Bug-Busting Babies" spoofs the Ray Parker Jr song from the original movie, and features bug busters and a car similar to the Ghostbusters and their Ecto-1.
In a Sesame Park film insert, Jeff Hyslop sings a parody of the theme song with some kids, about being "Trashbusters" and cleaning a littered playground. (YouTube)
Connections
External links