Published
2007
Publisher
Studio Mouse
Series
Learn & Carry
ISBN
159096107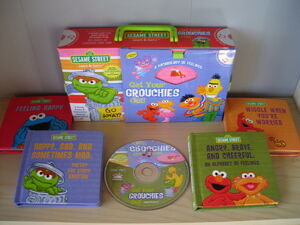 Get Your Grouchies Out is a 2007 Sesame Street set of four books and a CD. The books are about different feelings:
Feeling Happy
Happy, Sad, and Sometimes Mad: Poetry for Every Emotion
Angry, Brave, and Cheerful: An Alphabet of Feelings
Wiggle When You're Worried
The included CD has narration and songs, performed by Bob McGrath.
See also
Ad blocker interference detected!
Wikia is a free-to-use site that makes money from advertising. We have a modified experience for viewers using ad blockers

Wikia is not accessible if you've made further modifications. Remove the custom ad blocker rule(s) and the page will load as expected.