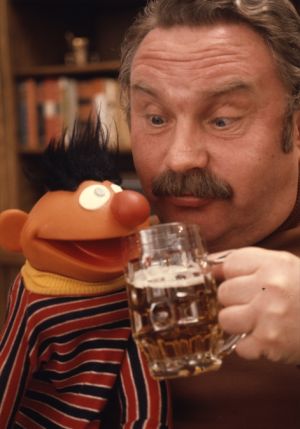 Gerd Duwner (1925-1996) was a German comedian and voice actor who dubbed the voice of Ernie on Sesamstrasse (the German co-production of Sesame Street), from the first episode until his death. He also made an on-camera appearance in Folge 1270, playing a police inspector.
Together with Wolfgang Kieling, who dubbed Bert, they originated the duo on German language TV. His voice was so closely associated with Ernie that, in 1994, when original puppets of Ernie and Bert were stolen from a touring Muppets exhibit, Duwner made a radio appeal on January 25, asking the thieves to return the puppets. The strategy brought results by March, when radio station Antenna Tueringen received an anonymous phone call to return the puppets, and accepted them through a middleman the next day.[1] He even dubbed Ernie in other movies which used his voice only in passing, such as Where's Poppa? or Short Circuit 2 (with Ernie replacing background audio of Mister Rogers' Neighborhood).
Duwner also voiced the narrator in the German dub of The Dark Crystal and Bean Bunny in Die Muppets Weihnachtsgeschichte (The Muppet Christmas Carol), as well as dubbing Raymond Serra as Police Chief Sterns in the Creature Shop-effects films Teenage Mutant Ninja Turtles and Teenage Mutant Ninja Turtles II: The Secret of the Ooze.
Outside of Sesamstrasse, Duwner was familiar as the primary German voice of Mickey Rooney (including Breakfast at Tiffany's), Oliver Hardy in all of the 1960s dubs, Ned Beatty in over 20 films (including Superman), Danny DeVito and Charles Durning (ten movies each), and Chico Marx. Other dub assignments, usually comedic, included Bob Hope in Spies Like Us, Vincent Gardenia in Little Shop of Horrors, John Bluthal in Help!, Bill McCutcheon in The Stoolie, Stubby Kaye in Who Framed Roger Rabbit?, and Don Rickles in Kelly's Heroes.
He was a staple in cartoons, with roles in several Disney dubs (notably Goofy in the shorts, Horace Badun in the re-dub of 101 Dalmatians, and Bernard in The Rescuers), Snakely on Kimba the White Lion, Captain Cully in The Last Unicorn, and Barney Rubble on The Flintstones. On TV, he dubbed Ken Curtis on Gunsmoke, Victor Sen Yung on Bonanza, and David Doyle in Charlie's Angels.
Sources
↑ The Spokesman Review. "2 Stolen Muppet Puppets Returned." March 15, 1996. Originally from wire reports.
External links