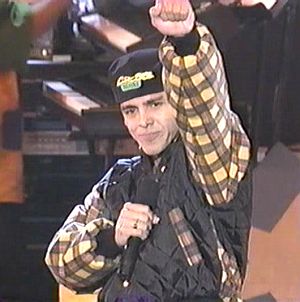 Gerardo (b. 1965) is an Ecuador-born rapper who became famous in 1991 for his hit single "Rico Suave," which was produced by Osunlade. He was known for his good looks and muscular chest, and would often appear on stage shirtless. His debut album was the first release on Interscope Records.
In 1993, he appeared on the Disney Channel's For Our Children concert, a benefit for pediatric AIDS research. Following Gerardo's appearance, Baby Sinclair compared himself to the performer: "Does he have scales? No! Does he have claws? No!"
Today, Gerardo is a vice president of A&R (artists and repertoire) for Interscope.
External links
Ad blocker interference detected!
Wikia is a free-to-use site that makes money from advertising. We have a modified experience for viewers using ad blockers

Wikia is not accessible if you've made further modifications. Remove the custom ad blocker rule(s) and the page will load as expected.