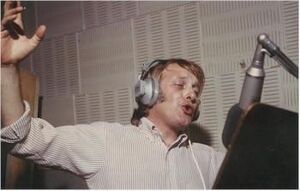 Ger Smit (1933–2012) was a Dutch voice actor who, like Frans van Dusschoten, performed more than a dozen characters on the long-running puppet series De Fabeltjeskrant. For the 1974 Sesamplein pilot, which led to Sesamstraat, Smit dubbed the voices of Bert (opposite Van Dusschoten as Ernie), Cookie Monster, Professor Hastings, the early Grover, and a fish. For Sesamstraat proper, Van Dusschoten and Smit would be replaced by Paul Haenen and Wim T. Schippers.
Smit's other voice credits include parts in the Dutch dubs of several Disney features, including Prince Charming, Grumpy, and others in Snow White, the Archbishop in The Hunchback of Notre Dame, and Luke, Orville, and the newscaster in The Rescuers (opposite Aart Staartjes as Bernard).
Ad blocker interference detected!
Wikia is a free-to-use site that makes money from advertising. We have a modified experience for viewers using ad blockers

Wikia is not accessible if you've made further modifications. Remove the custom ad blocker rule(s) and the page will load as expected.