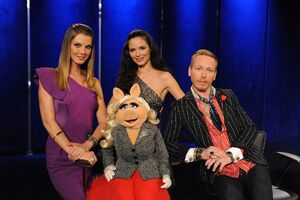 Georgina Chapman (b. 1976) is an English fashion designer and actress who co-foundered the fashion label Marchesa and was a judge on Project Runway All-Star.
Chapman is married to film producer Harvey Weinstein, and among her film credits are appearances in Woody Allen's Match Point, the Andy Warhol inspired Factory Girl and The Nanny Diaries (with Alicia Keys)
External links
Ad blocker interference detected!
Wikia is a free-to-use site that makes money from advertising. We have a modified experience for viewers using ad blockers

Wikia is not accessible if you've made further modifications. Remove the custom ad blocker rule(s) and the page will load as expected.