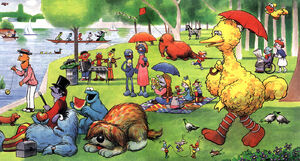 Georges Seurat was a 19th-century French artist most famous for his painting, Sunday Afternoon on the Island of La Grande Jatte. The art piece is often used as an example of the pointillism technique from the Post-Impressionism period, and was the inspiration for Stephen Sondheim's Broadway musical, Sunday in the Park with George (featuring Bernadette Peters, Mandy Patinkin, Charles Kimbrough, and Robert Westenberg).
References
On My Way with Sesame Street Volume 1 featured a version with Sesame Street characters called "Sunday in the Park with Big Bird." Featured in the spoof are Big Bird, Grover, Ernie, Bert, Elmo, The Amazing Mumford, Herry Monster, Cookie Monster, Mr. Snuffleupagus, Oscar the Grouch, Little Bird, Barkley, Twiddlebugs, Grover's Mom, The Count, Prairie Dawn, Betty Lou, Rodeo Rosie and various Anything Muppets.
Ad blocker interference detected!
Wikia is a free-to-use site that makes money from advertising. We have a modified experience for viewers using ad blockers

Wikia is not accessible if you've made further modifications. Remove the custom ad blocker rule(s) and the page will load as expected.