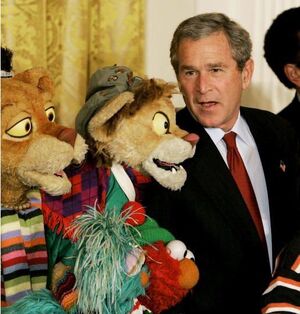 George Walker Bush (b. 1946) was the forty-third President of the United States of America, serving from 2001 to 2009. He previously served as the forty-sixth Governor of Texas and is the eldest son of former United States President George H. W. Bush and Barbara Bush.
President Bush has appeared alongside the Muppets of Sesame Street at several White House events. His wife, Laura Bush, has also made special appearances with the Muppets.
Ad blocker interference detected!
Wikia is a free-to-use site that makes money from advertising. We have a modified experience for viewers using ad blockers

Wikia is not accessible if you've made further modifications. Remove the custom ad blocker rule(s) and the page will load as expected.