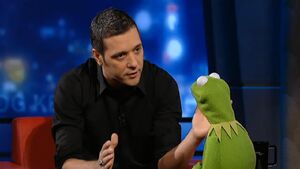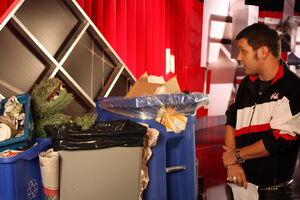 The Hour is a Canadian talk show on the CBC and CBC Newsworld, hosted by George Stroumboulopoulos. After being downsized to half the original length, it was renamed George Stroumboulopoulos Tonight.
Appearances
October 22 2008: During the cold open to the show, George discover Oscar is hanging out in a trash heap at the side of the show's stage. He encourages Oscar to help him promote One Million Acts of Green, a program/project on the CBC. (Oscar was in Canada for Waste Reduction Week.)
November 3, 2011: Kermit the Frog appears. On TV, the interview airs alongside William Shatner, online alongside Rick Hansen. (Video)
December 23, 2011: Kermit the Frog is a guest on the George Stroumboulopoulos Tonight Holiday Music Special, with a "tale of holiday hijinx". The program also includes Martin Short in a parody of the David Bowie-Bing Crosby duet "Peace on Earth/Little Drummer Boy", and Michael Bublé.
Mentions
External links