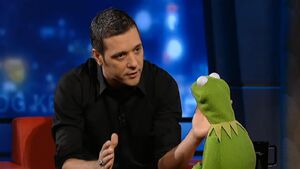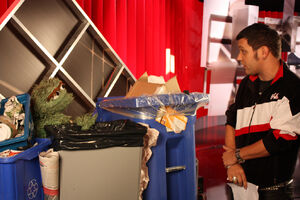 The Hour is a Canadian talk show on the CBC and CBC Newsworld, hosted by George Stroumboulopoulos. After being downsized to half the original length, it was renamed George Stroumboulopoulos Tonight.
Appearances
October 22 2008: During the cold open to the show, George discover Oscar is hanging out in a trash heap at the side of the show's stage. He encourages Oscar to help him promote One Million Acts of Green, a program/project on the CBC. (Oscar was in Canada for Waste Reduction Week.)
November 3, 2011: Kermit the Frog appears. On TV, the interview airs alongside William Shatner, online alongside Rick Hansen. (Video)
December 23, 2011: Kermit the Frog is a guest on the George Stroumboulopoulos Tonight Holiday Music Special, with a "tale of holiday hijinx". The program also includes Martin Short in a parody of the David Bowie-Bing Crosby duet "Peace on Earth/Little Drummer Boy", and Michael Bublé.
October 14, 2013: During the cold open, Stromboulopoulos, Brian Henson, and Beaver and Armadillo characters performed by Leslie Carrara-Rudolph and Patrick Bristow. Henson is the primary guest that episode, and is interviewed about his father, directing Muppet Christmas Carol, and Puppet Up! in Toronto. During the final segment, Strombo airs a segment of "Lullaby of Broadway", and Brian talks about creating the first Muppet penguin, and how he was honored that Frank Oz chose to puppeteer it. Brian briefly trains George in puppeteering for television, using the Puppet Up! puppets. [1]
Mentions
External links
Ad blocker interference detected!
Wikia is a free-to-use site that makes money from advertising. We have a modified experience for viewers using ad blockers

Wikia is not accessible if you've made further modifications. Remove the custom ad blocker rule(s) and the page will load as expected.