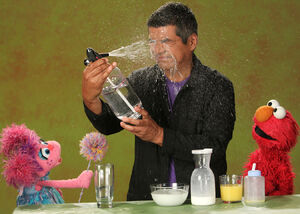 George Lopez (b. 1961) is an American comedian, actor and talk show host. He is best known for his starring television credits in George Lopez and Lopez Tonight. He also did some voiceovers in films, such as Marmaduke (as Carlos), Rio (as Rafael), Disney's Beverly Hills Chihuahua and its sequels (as Papi), The Adventures of Shark Boy and Lava Girl (as Mr. Electricdad/ Mr. Electric/Tobor), The Smurfs (as Grouchy Smurf) and Spy Kids: All the Time in the World (as Ricky Raccoon).
Lopez appears on Sesame Street to explain the word "liquid" in a Season 42 Word of the Day segment.
External links
Ad blocker interference detected!
Wikia is a free-to-use site that makes money from advertising. We have a modified experience for viewers using ad blockers

Wikia is not accessible if you've made further modifications. Remove the custom ad blocker rule(s) and the page will load as expected.