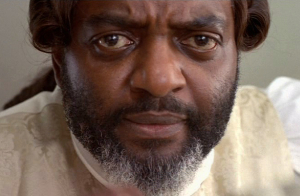 George Harris (b. 1949) is a West Indian actor who starred in the ITV TV series Wolcott, becoming the first actor to portray a black detective hero on British television. In 1996, he appeared in Gulliver's Travels as one of the Brobdignagian scientists.
Mentored by Laurence Olivier early in his career, Harris performed on the legitimate stage, and made a handful of film and television appearances in the 1960s and 70s. In 1980, he played Prince Thun in the cinematic version of Flash Gordon, and the following year, appeared in Steven Spielberg's Raiders of the Lost Ark (as Katanga). His more recent films include Black Hawk Down, The Interpreter, and the 2007 film Harry Potter and the Order of the Phoenix (as Kingsley Shacklebolt).
External links
Ad blocker interference detected!
Wikia is a free-to-use site that makes money from advertising. We have a modified experience for viewers using ad blockers

Wikia is not accessible if you've made further modifications. Remove the custom ad blocker rule(s) and the page will load as expected.