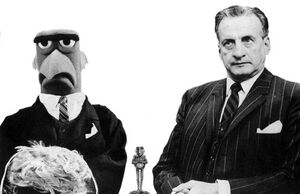 George C. Scott (1927-1999) was an actor best known for his starring role in Patton, and for his breakout performance as General "Buck" Turgidson in Dr. Strangelove.
He appeared in Muppet Magazine issue 5, paired in "The Second Great Muppet Look-Alike Contest" with Sam the Eagle. He also supplied the voice of the evil Smoke, who tangled with the Muppet Babies and other cartoon icons in Cartoon All-Stars to the Rescue.
Scott was spoofed by Rizzo the Rat in the 1999 calendar Muppet Movie Parodies: Our Wedding or Your Funeral, in Ratton.
External links
Ad blocker interference detected!
Wikia is a free-to-use site that makes money from advertising. We have a modified experience for viewers using ad blockers

Wikia is not accessible if you've made further modifications. Remove the custom ad blocker rule(s) and the page will load as expected.