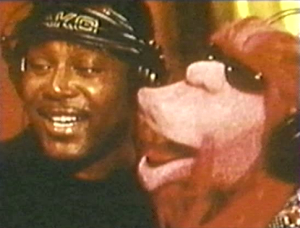 George Benson (b. 1943) is a pop and R&B singer and jazz guitarist, who has won Grammy Awards for the singles "This Masquerade" and "On Broadway".
Benson made several appearances on Sesame Street in the early 1980s, performing "A Friend for All Seasons" (with Olivia), "The Greatest Love of All", and "The Alphabet Song."
Benson also performed a duet of "On Broadway" with Clifford and the Rhythm Rats on the 1994 Muppet album Kermit Unpigged.
External links
Ad blocker interference detected!
Wikia is a free-to-use site that makes money from advertising. We have a modified experience for viewers using ad blockers

Wikia is not accessible if you've made further modifications. Remove the custom ad blocker rule(s) and the page will load as expected.