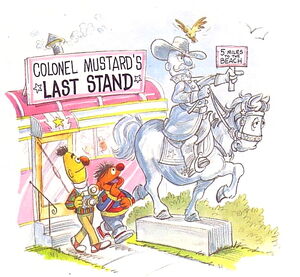 George Armstrong Custer (1839-1876) was a United States Army officer for the Civil War, being on hand for General Robert E. Lee's surrender at the the Appomattox Courthouse. He is best remembered for his "last stand" at the Battle of the Little Bighorn.
Custer, and his "last stand" are spoofed in the Sesame Street book What Ernie and Bert Did on Their Summer Vacation.
Ad blocker interference detected!
Wikia is a free-to-use site that makes money from advertising. We have a modified experience for viewers using ad blockers

Wikia is not accessible if you've made further modifications. Remove the custom ad blocker rule(s) and the page will load as expected.