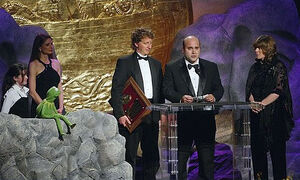 Produced by The Human Society of the United States (HSUS), the Genesis Awards have annually recognized outstanding works which raise public understanding of animal issues since 1986.
In March 2003, the award was given to Kermit's Swamp Years for Children's Programming. Ritamarie Peruggi, David Gumpel, Michael Polis and Kermit the Frog appeared at the ceremony to accept.
Backstage, Kermit was interviewed by VegTV and shared a kiss with Alicia Silverstone.
External links
Ad blocker interference detected!
Wikia is a free-to-use site that makes money from advertising. We have a modified experience for viewers using ad blockers

Wikia is not accessible if you've made further modifications. Remove the custom ad blocker rule(s) and the page will load as expected.