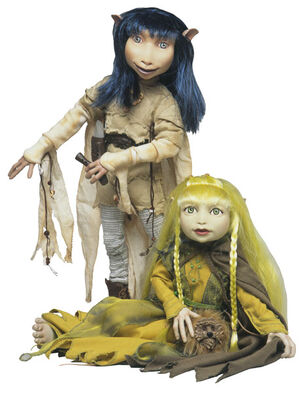 In 2002 Sideshow Collectibles created two 12-inch Gelfling figures based on the characters of The Dark Crystal - Jen and Kira. The figures were released in a limited edition of 7,500 sets.
Kira came with a small Fizzgig pack-in, while Jen came equipped with his flute and the Crystal Shard. Both dolls came with a stand imprinted with the Dark Crystal logo and the character's name.
These dolls were the first Dark Crystal figures ever officially released. While action figures were planned in 1982, they were never released.
These figures' head sculpts were created by Mat Falls.
Ad blocker interference detected!
Wikia is a free-to-use site that makes money from advertising. We have a modified experience for viewers using ad blockers

Wikia is not accessible if you've made further modifications. Remove the custom ad blocker rule(s) and the page will load as expected.