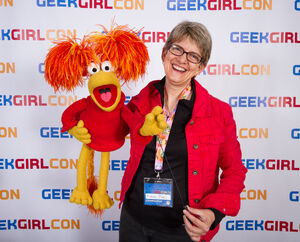 GeekGirlCon is a Seattle convention. It was conceived as a result of a 2010 San Diego Comic-Con panel "Geek Girls Exist".
It "celebrates and honors the legacy of women contributing to science and technology; comics, arts, and literature; and game play and game design by connecting geeky women world-wide and creating community to foster continued growth of women in geek culture through events."
Karen Prell was at the 2011 convention; there was a Labyrinth sing-along.
Karen Prell and Red Fraggle appeared in 2013 for a Fraggle Rock 30th anniversary event.
External links
Ad blocker interference detected!
Wikia is a free-to-use site that makes money from advertising. We have a modified experience for viewers using ad blockers

Wikia is not accessible if you've made further modifications. Remove the custom ad blocker rule(s) and the page will load as expected.