Songs from
Sesamstrasse Geburtstags-Geschichten
Released
2013
Format
CD
Label
Dhv Der Hörverlag
Cat no.
ISBN 9783844510652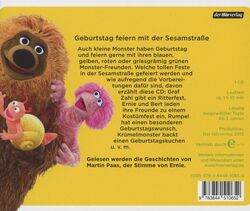 Geburtstags-Geschichten (Birthday Stories) is a 2013 Sesamstrasse CD of stories, read by Martin Paas, the German voice of Ernie.
Product description
Parents and children love the characters from Sesame Street, like Bert and Ernie, Cookie Monster, and Oscar. From the barrel, Grover, Elmo and Big Bird Along with the beloved characters we celebrate birthday on Sesame Street: Cookie Monster that cookies and Oscar gets paid out of the ton of waste, of course of course, but what Bert Ernie gets a birthday or Bibo, the big yellow bird?
Track listing
(1 CD, running time: approximately 1 hour)