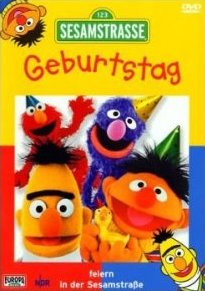 Geburtstag ("Birthday") is a Sesamstrasse video.
Segments
Wer, wie, was
Der Monsterkeks (Cookie Monster and the Monster Cookie)
Party im Mülleimer
Der Wasser-Landfrosch vom Inselstrand ("Caribbean Amphibian")
Überraschung
Eins-Zwei-Drei-Tanz ("The Batty Bat")
Sechzehn Samba ("Sixteen Samba")
Oskars Müll-Band ("Oscar's Junk Band")
Wer ist wer?
Quietsche Entchen ("Rubber Duckie")
Geburtstagsparty
Karl-Heinz Kassler Tanz (Scene from Episode 3163 of Sesame Street)
Wetterbericht
Ernies Tee-Party (Ernie's Imaginary Tea Party)
Grobi als Hot-Dog-Verkäufer (Grover the Hot Dog Vendor)
Das Überraschungspaket
Schüttel die Rassel und roll! ("Shake Your Rattle and Roll")
Krabbelkäferfest (Kermit Counts Twiddlebugs)
Pa Pa Pa (Elmo and Placido Flamingo)
Monster in Venedig (Monsterpiece Theater: The Monsters of Venice)
Quietsche-Entchen-Hupen-Tuten-Lied ("The Honker-Duckie-Dinger Jamboree")
Telly will feiern
Elmo und Ernie teilen ("Share")
Ruh dich aus! ("Take a Rest")
Alles Gute
Wer, wie, was
Ad blocker interference detected!
Wikia is a free-to-use site that makes money from advertising. We have a modified experience for viewers using ad blockers

Wikia is not accessible if you've made further modifications. Remove the custom ad blocker rule(s) and the page will load as expected.