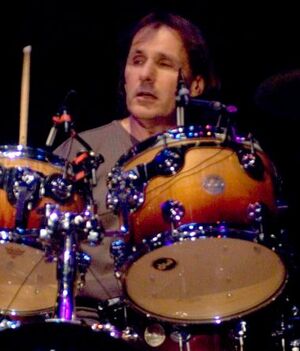 Gary Mallaber (b. 1946) is a rock drummer who played drums on The Muppet Movie, the special Emmet Otter's Jug-Band Christmas, and the album Kermit Unpigged, usually for Animal.
Also performing on vibraphones, keyboard, and other percussion instruments, Mallaber is best known for his long associations with the Steve Miller Band (1976-1987). He worked with Paul Williams on various albums and film scores and has also backed Bruce Springsteen, The Beach Boys, Los Lobos, Barbra Streisand, and Cher.
Film soundtracks include Bugsy Malone, Honey, I Shrunk the Kids, That Thing You Do, and Taps.
External links