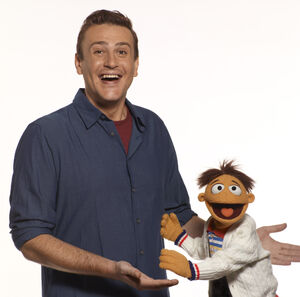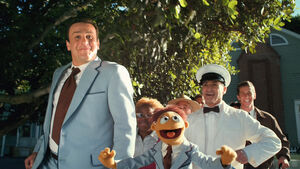 Gary is a human character featured in The Muppets, the Muppets' feature film released on November 23, 2011.
While Gary is said to be the older brother of Walter, the two brothers are very close in age. The two are shown in the same first grade class, and also participate in the same JPA Troop and play on the same baseball team. When their heights are recorded, both Gary and Walter are marked as being the same age at the time of the measurings (the brothers are shown in the film being measured together at ages 6 and 13). In the film's opening narration, Walter says "That's my brother Gary. He's the best friend you could ever have. Yeah, I know what you're thinking, we could be twins."
Gary is dating Mary and is a big Muppet fan. In the film, Gary and Walter set out to reunite the Muppets to help save Muppet Studios.
Other actors play Gary at younger ages: Gunnar Smith, age 6; Connor Gallagher, age 9; and Justin Marco, age 13. An uncredited stand-in played Gary at the beginning of Muppets Most Wanted. Photos of Gary are visible hanging on the walls of Walter's bunk aboard the Muppets' train in Muppets Most Wanted.
Trivia
Actor David Buehrle was cast as Gary at age 16, and discussed the role in a red carpet interview at The Muppets.[1] However, he does not appear in the final film nor was he credited; his footage was either cut or limited to background photos.
See also
Sources
Ad blocker interference detected!
Wikia is a free-to-use site that makes money from advertising. We have a modified experience for viewers using ad blockers

Wikia is not accessible if you've made further modifications. Remove the custom ad blocker rule(s) and the page will load as expected.