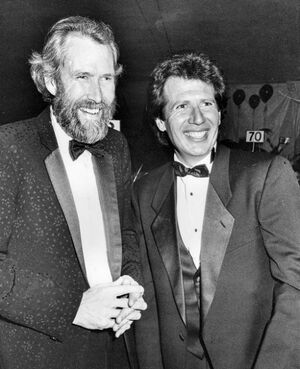 Garry Shandling (1949-2016) was an actor and comedian. He performed the voice of a pigeon (opposite Julie Kavner) in the 1998 film Dr. Dolittle which features animals provided by Jim Henson's Creature Shop.
Shandling was best known as the star of The Larry Sanders Show (with Jeffrey Tambor) and It's Garry Shandling's Show. He made a successful stand-up performance on The Tonight Show Starring Johnny Carson in 1981 and became a frequent guest-host for Carson throughout the 1980s.
Among Shandling's other credits are Caroline in the City, The X-Files, Iron Man 2, and Shelley Duvall's Mother Goose Rock 'n' Rhyme (as Jack).
External links
Ad blocker interference detected!
Wikia is a free-to-use site that makes money from advertising. We have a modified experience for viewers using ad blockers

Wikia is not accessible if you've made further modifications. Remove the custom ad blocker rule(s) and the page will load as expected.