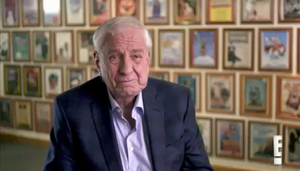 Garry Marshall (1934-2016) was an American actor, director, writer, and producer. His notable credits include creating Happy Days and directing the feature film Pretty Woman.
Marshall appeared as himself in the E! mockumentary Behind the Feud: Joan Rivers and Miss Piggy. In the special it is revealed that Marshall produced the sitcom Bjørnbots, which starred Miss Piggy and Joan Rivers as a Swedish Pig and a robot, respectively.
Marshall's extensive credits include writing and/or producing the situation comedies The Odd Couple, Laverne and Shirley (starring his sister, Penny Marshall), Mork & Mindy, The Lucy Show, and Love, American Style. He also wrote for The Tonight Show and directed multiple feature films including Beaches and The Princess Diaries (with Anne Hathaway and Julie Andrews).
He has been inducted into the Television Hall of Fame, was awarded a star on the Hollywood Walk of Fame and has appeared in A League of Their Own, Murphy Brown, ER, Rugrats, The Simpsons, and Disney's Chicken Little.
External links
Ad blocker interference detected!
Wikia is a free-to-use site that makes money from advertising. We have a modified experience for viewers using ad blockers

Wikia is not accessible if you've made further modifications. Remove the custom ad blocker rule(s) and the page will load as expected.