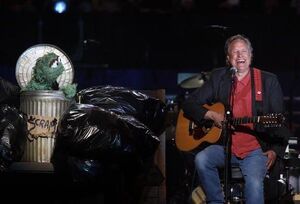 "Garbage" is a song sung by Pete Seeger, with the assistance of Oscar and the Kids. The song talks about how the garbage that people throw away ends up in the ocean, and how the cars they drive cause pollution, and worst of all, how people can fill their minds with garbage, too–all by chronicling one man, "Mr. Thompson" by name, doing said events.
Oscar later sang this at Pete Seeger's 90th Birthday Celebration, The Clearwater Concert: Creating the Next Generation of Environmental Leaders.
Releases
Audio
Ad blocker interference detected!
Wikia is a free-to-use site that makes money from advertising. We have a modified experience for viewers using ad blockers

Wikia is not accessible if you've made further modifications. Remove the custom ad blocker rule(s) and the page will load as expected.