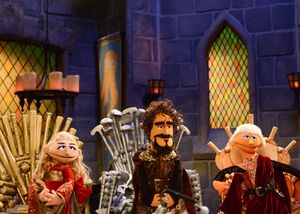 Game of Thrones is an HBO TV series (premiering in 2011) based on the Song of Ice and Fire book series by George R.R. Martin.
References
Sesame Street spoofed the series as "Game of Chairs" in Season 45's Episode 4522. Grover appears as "Grover Bluejoy" among caricatures of Tyrion Lannister, Cersei Lannister, Daenerys Targaryen (and a baby dragon), Melisandre the Red Woman, Ned Stark, Robb Stark, and Joffrey Baratheon. (YouTube)
Connections
Ad blocker interference detected!
Wikia is a free-to-use site that makes money from advertising. We have a modified experience for viewers using ad blockers

Wikia is not accessible if you've made further modifications. Remove the custom ad blocker rule(s) and the page will load as expected.