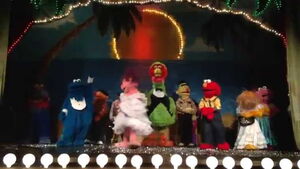 Gala Sésamo is a stage show at Parque Plaza Sésamo that ran in 2010 for the theme park's 15th anniversary. The Plaza Sésamo characters wore formalwear.
an instrumental introduction
"Little Shop of Horrors" theme in Spanish, with Count von Coun
"Contando Bananas" ("One Banana") and "Day-O" with Count von Count, Bert, Ernie
"Ya somos amigos", possibly the theme to the 1979 TVN series of the same name
Ad blocker interference detected!
Wikia is a free-to-use site that makes money from advertising. We have a modified experience for viewers using ad blockers

Wikia is not accessible if you've made further modifications. Remove the custom ad blocker rule(s) and the page will load as expected.