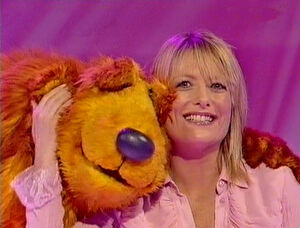 Gaby Roslin (b. 1962) is an English television presenter and actress. She rose to fame while co-presenting The Big Breakfast on Channel 4 between 1992 and 1996, and also presented the BBC Children in Need charity appeal from 1994 to 2004 with Terry Wogan.
In the 2002 BBC Children in Need, she danced with Bear to "The Bear Cha-Cha-Cha."
Ad blocker interference detected!
Wikia is a free-to-use site that makes money from advertising. We have a modified experience for viewers using ad blockers

Wikia is not accessible if you've made further modifications. Remove the custom ad blocker rule(s) and the page will load as expected.