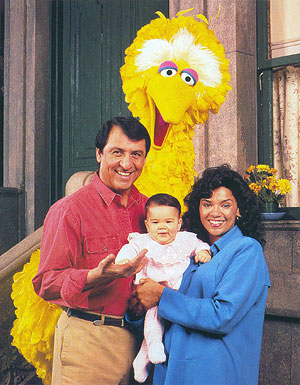 Gabriela "Gabi" Rodriguez is the daughter of Maria and Luis Rodriguez. She was born in 1989 in a story closing out the 20th season of Sesame Street.
In recent years, Gabi and Miles have been known to assist Alan at Hooper's Store. She graduated from high school in Episode 4112 with Miles (despite the fact that their respective births on the show occurred four years apart). Season 38 saw Gabi attending college and beginning to take on a more adult role.
Gabi is no longer a character on the show starting with season 44.
Desiree Casado has appeared in character as Gabi at the Sesame Place theme park.
Trivia
The character of Gabi was born a year after the real-life birth of Sonia Manzano's child, who also played the role of Gabi on Sesame Street.
Casting
Sources
See also
Gaby, a Muppet on Plaza Sésamo
Ad blocker interference detected!
Wikia is a free-to-use site that makes money from advertising. We have a modified experience for viewers using ad blockers

Wikia is not accessible if you've made further modifications. Remove the custom ad blocker rule(s) and the page will load as expected.