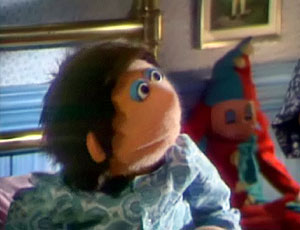 Joan Baez sings "Honest Lullaby" in episode 503 of The Muppet Show, a song she wrote for her son, Gabriel Harris. He is represented in this piece as a Muppet boy, who is sung to by Baez in his bedroom decorated with Superman: The Movie and Grease posters.
In the song, Baez compares her upbringing with that of her son's, and references some things that he likes, such as teddy bears, alligators and Enterprise communicators.
See also
Ad blocker interference detected!
Wikia is a free-to-use site that makes money from advertising. We have a modified experience for viewers using ad blockers

Wikia is not accessible if you've made further modifications. Remove the custom ad blocker rule(s) and the page will load as expected.