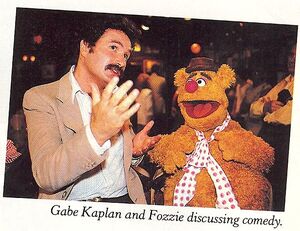 Gabe Kaplan (b. 1945) is an American comedian and actor, best remembered for the title role in the sitcom Welcome Back, Kotter. Kaplan is currently a professional poker player. He was photographed with Fozzie Bear for the premiere issue of Muppet Magazine in an article about the HBO special on the tenth anniversary of Catch a Rising Star.
Aside from Welcome Back, Kotter, Kaplan has made guest appearances on Murder, She Wrote and The Love Boat, and played Groucho Marx in a filmed performance of his touring show.
External links
Ad blocker interference detected!
Wikia is a free-to-use site that makes money from advertising. We have a modified experience for viewers using ad blockers

Wikia is not accessible if you've made further modifications. Remove the custom ad blocker rule(s) and the page will load as expected.