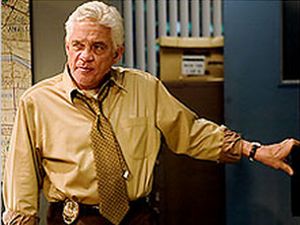 G. W. Bailey (b. 1945) is a Texas-born character actor specializing in roughnecks and loud-mouthed authority figures. He was heard as Sarge in the Dinosaurs episode "Nuts to War (part 2)", which spoofed The Winds of War (whose sequel War and Remembrance included Bailey in the cast). Since 2005, he has co-starred as Det. Lt. Provenza on the TNT drama The Closer. A caricature of Bailey's Provenza was spoofed on Sesame Street in Season 41.
Bailey's other TV army stints are highlighted by Sgt. Luther Rizzo, the shifty motor pool head, on M*A*S*H. Also showing an affinity for police work, the actor played Captain Harris in the Police Academy movies (opposite George Gaynes).
Other credits include Skroeder in the film Short Circuit, Dr. Beale on St. Elswhere, Jeff Foxworthy's dad on The Jeff Foxworthy Show, a CBS TV movie on the life of Jesus, guest spots on Newhart and Happy Days, and a voice part in the Disney feature Home on the Range.
External links
Ad blocker interference detected!
Wikia is a free-to-use site that makes money from advertising. We have a modified experience for viewers using ad blockers

Wikia is not accessible if you've made further modifications. Remove the custom ad blocker rule(s) and the page will load as expected.