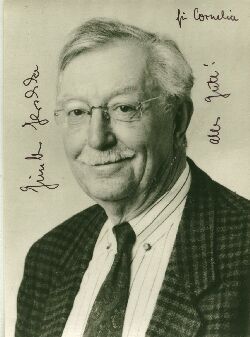 Günther Jerschke (1921-1997) was a German voice actor who dubbed Professor Hastings (renamed Professor Hastig) on Sesamstrasse. In contrast to the American Sesame Street, these dubbed segments remain in rotation on German TV to this day.
Jerschke studied acting as a young man, landing his first movie part in the Nazi propaganda film Pour le Mérite, in a bit as a young adjutant. Postwar, he found more success performing in revues and as a movie character actor (featuring in several of the Edgar Wallace mystery films). In the 1960s and 1970s, he was part of the stock company at Studio Hamburg (where Sesamstrasse is both filmed and dubbed), revoicing various series and movies for German TV. Movie dubs ranged from one of Mr. Potter's bankers in It's a Wonderful Life to more substantial roles in an assortment of French and UK films, such as Michel Robin in La Chèvre and Leo Genn in Ten Little Indians.
On Columbo, Jerschke dubbed an assortment of secondary guest stars, including Michael Fox as Columbo's veterinarian, and was a frequent voice on Bonanza, as town doctors, sheriffs, and hotel clerks. Regular TV dub roles were highlighted by Albert Hague on Fame and Harold Gould on The Golden Girls.