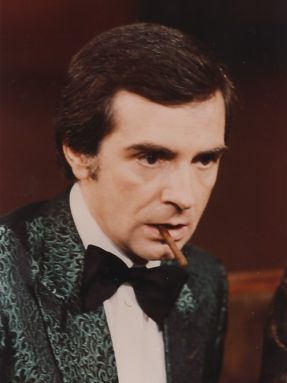 Gérard Rinaldi (1943-2012) was a French comedian, musician, and voice actor. He has voiced Eliot Shag in Les Crocs Malins (Dog City), Clifford in Les Muppets (Muppets Tonight, Johnny Fiama in Joyeux Muppet Show de Noël (It's a Very Merry Muppet Christmas Movie), and Le Comte (Count von Count) on 5, Rue Sésame. Creature Shop dub roles include Gulliver in Gulliver's Travels, Squealer in Animal Farm, and It in Cinq Enfants et Moi (Five Children and It).
Rinaldi began his career as a member of the band/comedy troupe Les Charlots, with whom he performed and composed music in a number of films. Rinaldi subsequently starred on the television series Marc et Sophie. His voice resume included several Disney assignments, including Goofy, Chef Louis in The Little Mermaid, Cogsworth in Beauty and the Beast, Grumpy in Snow White and the Seven Dwarfs, and Ratigan in The Great Mouse Detective. Live dub credits included Dennis Franz on NYPD Blue, Steve Martin in Little Shop of Horrors and Looney Tunes: Back in Action, John Malkovich in Mary Reilly, and Bob Peck in Jurassic Park.
External links
Ad blocker interference detected!
Wikia is a free-to-use site that makes money from advertising. We have a modified experience for viewers using ad blockers

Wikia is not accessible if you've made further modifications. Remove the custom ad blocker rule(s) and the page will load as expected.