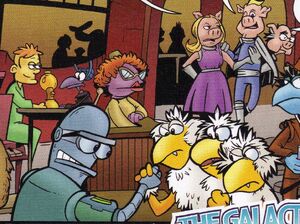 Futurama is an animated science fiction series from The Simpsons creator Matt Groening. The show aired on FOX from 1999 to 2003, and on Comedy Central from 2008 to 2013.
References
Episode Mentions
Comic Mentions
| Pictures | Comic | Description |
| --- | --- | --- |
| | TTWT | Lord Manumahnuh is based on Mahna Mahna. |
| | FC | Kif reads a book entitled "It's Not Easy Being Green and Under Glass", with a picture of Kermit on the front. |
| | TFATF | Fry turned into a Muppet. |
Connections
External links
Ad blocker interference detected!
Wikia is a free-to-use site that makes money from advertising. We have a modified experience for viewers using ad blockers

Wikia is not accessible if you've made further modifications. Remove the custom ad blocker rule(s) and the page will load as expected.