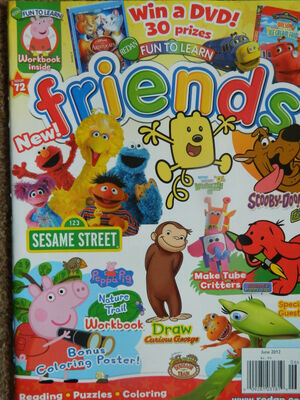 Fun to Learn Friends is a children's magazine published by Redan Publishing. The magazines included read-together stories, crafts and interactive workbooks with various children's entertainment characters.
Two of the sections in the June 2012 issue are a Sesame Street-devoted section and a Dinosaur Train-devoted section. The July 2012 issue features a Sesame Street eductional interactive summer workbook. Another Fun to Learn Friends issue and two Fun to Learn Favourites issues includes Bear in the Big Blue House, Elmo's World and Dinosaur Train-devoted sections. The August 2012 issue features Sesame Street-devoted puzzles and games.
Ad blocker interference detected!
Wikia is a free-to-use site that makes money from advertising. We have a modified experience for viewers using ad blockers

Wikia is not accessible if you've made further modifications. Remove the custom ad blocker rule(s) and the page will load as expected.