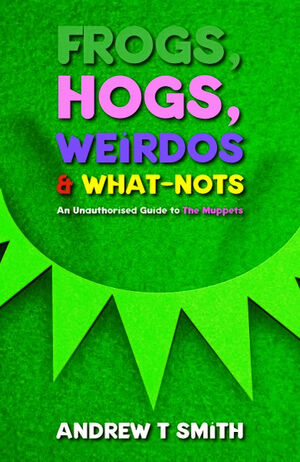 Frogs, Hogs, Weirdos & What-nots: An Unauthorised Guide to The Muppets was a non-fiction book being written by Andrew T. Smith. It was to have been published in 2012 by Miwk Publishing, but the release was cancelled.
Description
"

Unashamedly cashing in on the first release of a new Muppet movie in over a decade, Miwk Publishing Ltd is proud to present Frogs, Hogs, Weirdos & What-Nots, your essential guide to the Muppets. For more than fifty years, Jim Henson's creations have delighted audiences both young and old across the globe. From Sesame Street and The Muppet Theatre to Dog City and Fraggle Rock, the tales behind all of your old favourites are brought together in this indispensible guide to these enduring characters.

Episode guides, performer biographies and behind the scenes information work side by side to bring you the story of the Muppets; from their pioneering work on live television, to their breakout successes and their continued global mega-stardom, no stone is left unturned.

Written by what's left of Andrew T, Smith, the writer who brought you Marx and Re-Marx: Creating and Recreating the Lost Marx Brothers Radio Series*, Frogs, Hogs, Weirdos & What-Nots is set to be a must have for Kermit, Piggy, Big Bird and Oscar fans of all ages, shapes, sizes and species.

*We heard it sold well on the planet Koozebane

"
External links
Ad blocker interference detected!
Wikia is a free-to-use site that makes money from advertising. We have a modified experience for viewers using ad blockers

Wikia is not accessible if you've made further modifications. Remove the custom ad blocker rule(s) and the page will load as expected.