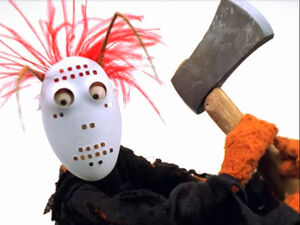 Friday the 13th is a horror franchise consisting of twelve movies, a television series and comic books. The lead character, Jason Voorhees, is a mass murderer whose signature hockey mask makes him one of the most recognizable slasher villains.
References
Pepe the King Prawn wore the Jason mask in a PSA for the V-Chip in order to illustrate to parents things they might not want their children to see.
Connections
Ad blocker interference detected!
Wikia is a free-to-use site that makes money from advertising. We have a modified experience for viewers using ad blockers

Wikia is not accessible if you've made further modifications. Remove the custom ad blocker rule(s) and the page will load as expected.