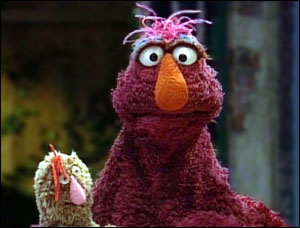 Freddy is Telly Monster's doll. According to Telly, Freddy worries even more than he does.
In a 2006 episode, Freddy appeared on the show as "Fantastic Freddy", the doll's superhero persona. He is eventually joined by Zoe's pet rock, Rocco, and together they "save the world" from the Dastardly Dinosaur (as played by Baby Bear). Fantastic Freddy has his own theme song.
Appearances
See also
Ad blocker interference detected!
Wikia is a free-to-use site that makes money from advertising. We have a modified experience for viewers using ad blockers

Wikia is not accessible if you've made further modifications. Remove the custom ad blocker rule(s) and the page will load as expected.