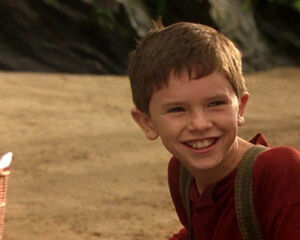 Freddie Highmore (b. 1992) is an English child actor. In 2001, he had a small role in Jack and the Beanstalk: The Real Story as a boy in a playground; in 2004, he had a leading role as Robert in Five Children and It.
Highmore's other film credits include supporting roles in Two Brothers and Finding Neverland, and most recently starring roles as Charlie Bucket in Charlie and the Chocolate Factory (with James Fox and Deep Roy) and as Arthur in Arthur and the Invisibles (with Mia Farrow).
External links
Ad blocker interference detected!
Wikia is a free-to-use site that makes money from advertising. We have a modified experience for viewers using ad blockers

Wikia is not accessible if you've made further modifications. Remove the custom ad blocker rule(s) and the page will load as expected.