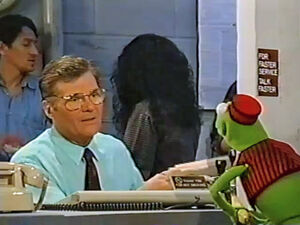 Fred Willard (b. 1939) is a comic actor who made a cameo appearance on Muppets Tonight episode 205. He also appeared as a "Happy Healthy Monsters Network" announcer in Happy Healthy Monsters.
In 2006, Willard appeared as a celebrity guest in the pilot for the Henson Company's puppet talk show, Late Night Buffet.
External links
Ad blocker interference detected!
Wikia is a free-to-use site that makes money from advertising. We have a modified experience for viewers using ad blockers

Wikia is not accessible if you've made further modifications. Remove the custom ad blocker rule(s) and the page will load as expected.