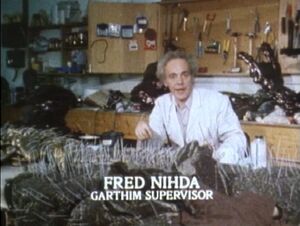 Fred Nihda was a professional mask and prop-maker who worked on The Dark Crystal, as creature design and fabrication supervisor for the Garthim.
His non-Henson credits included making horse heads for the stage play Equus, the Tin Man costume for the Broadway musical The Wiz, the gorilla mask for the film Cabaret, and several prop toy figures for the live action/animated film Raggedy Ann and Andy, which was scored by Joe Raposo.
Ad blocker interference detected!
Wikia is a free-to-use site that makes money from advertising. We have a modified experience for viewers using ad blockers

Wikia is not accessible if you've made further modifications. Remove the custom ad blocker rule(s) and the page will load as expected.