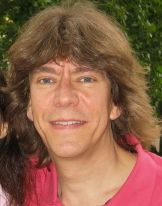 Fred Meijer dubs the voice of Telly on Sesamstraat, the Dutch co-production of Sesame Street, and both Pip and Pop on Bruine Beer in het Blauwe Huis, the Dutch dub of Bear in the Big Blue House.
Meijer took over Telly from Alfred Lagarde after he passed away in 1998. Meijer's hoarse Telly voice is a lot less gruff than Lagarde's. He does various other voices as well, and is heard in many cartoon series.
His non-Henson work includes voicing Derek in the Dutch dub of Bobby's World, Henry Mitchell in Dennis the Menace (opposite Hero Muller and Maria Lindes as George and Martha Wilson), and the announcer in Teletubbies (opposite Marlies Somers as Po).
In 2006 Fred Meijer won the Zilveren Koe (Silver Cow) award for his contribution to the quality of dubbing in the Netherlands. Other winners of the award are Paul van Gorcum (2004), Marjolein Algera (2005), and Maria Lindes (2010).
Ad blocker interference detected!
Wikia is a free-to-use site that makes money from advertising. We have a modified experience for viewers using ad blockers

Wikia is not accessible if you've made further modifications. Remove the custom ad blocker rule(s) and the page will load as expected.