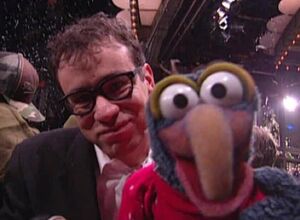 Fred Armisen (b. 1966) is a comedic actor known best for his time on Saturday Night Live (where he played Zoot) and Portlandia. He also did voice work as Chip Douglas in Crank Yankers and Freidrich in Cats & Dogs: The Revenge of Kitty Galore, sequel to Cats & Dogs. He is providing the voice of Brainy Smurf for the 2011 big screen adaptation of The Smurfs. Other credits include guest spots on 30 Rock and The Sarah Silverman Program.
During the closing of the December 18, 2004 broadcast of Saturday Night Live, Armisen can be seen among the crowd of cast members interacting with the Muppets, who made a cameo appearance on the show. He shook hands with Gonzo and danced along with Animal to the closing music. Also during his tenure on SNL, he played Zoot in several sketches.
Oscar the Grouch appeared alongside Armisen in an episode of Portlandia in 2015.
External links