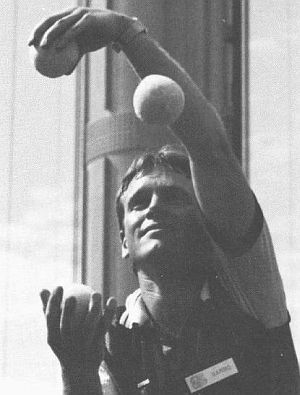 Fred "Garbo" Garver, also credited as Fred Garbo, is a performer and juggler of note. He played Barkley on Sesame Street and related productions in the 1980s, taking over the part from Brian Muehl. Garver also walked the Macy's Thanksgiving Day Parade route in 1984 as a juggling Fraggle.[1]
Fred Garbo currently helms the Inflatable Theater troupe, specializing in performance using blow-up suits. Past credits include performing on Broadway in Barnum and appearing as a background juggler in the 1982 feature film Annie.
Fred Garbo's Inflatable Theatre Co., billed only as Inflatable Theatre, was a contestant on America's Got Talent, season 3.
Credits
Sources
↑ "Joggler's Jottings." Juggler's World. Winter 1984-1985.
External links